If you are passionate about transforming this toxic system to make the world a better place for all life and you want to take action, then you are already a Rebel.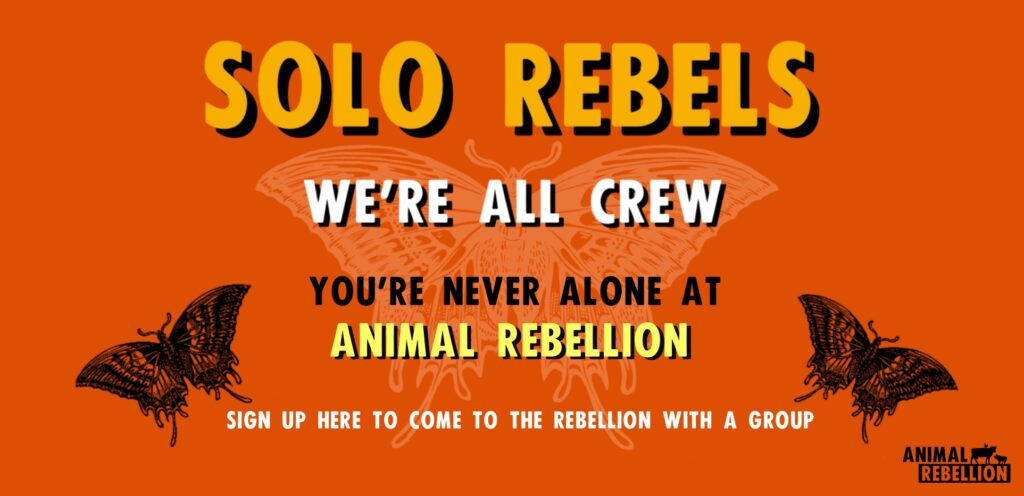 Animal Rebellion is an inclusive movement but coming alone to actions and events can be intimidating. You are never alone at Animal Rebellion, we all take action for the same cause and we are all crew no matter what.
The Welcome Team will be setting up meeting points across London where you will be able to form a group with other Solo Rebels and take part in the actions during the Rebellion.
Each group will have an experienced guide waiting at the pick-up points who will brief you on the actions and answer any questions or concerns that you may have.
You do not need to go alone and feel like an outsider.
You do not need to see the pictures in the news and think "damn I wish I was there!".
And if you are thinking something like "I really want to take part but I'm not that type of person" – There is no specific type of person, everyone is welcome, and we will be waiting for you!
If you want to take action with us – do not hesitate, the Rebellion needs you!
Click here to register your interest!

Any queries – email us at welcomedesk@animalrebellion.org