Summer has a long and glorious record of protests and arrests over the last couple of years, for Animal Rebellion as well as, of late, the campaign to stop HS2.
Her first arrest was at an Animal Rebellion action in 2020 at a slaughterhouse in Manchester and she was subsequently arrested at two actions against McDonald's and another targeting dairy giant, Arla.
She was also arrested when Animal Rebellion supported the Extinction Rebellion action to close the UK Amazon distribution centre on Black Friday.
"I just think there's nothing more important," says Summer. "The planet is in such a dire state and the suffering of animals in factory farms is so immense."
She has spent a lot of time on the top of vehicles or chained to gates. Most of the arrests were okay, she says, with the exception of the police raid on the protestors' camp at the G7 in June 2021 in Cornwall.
"For the other actions, I knew I would be arrested, which makes a big difference, and the experience was pretty much as I'd expected. The cops were mostly all right, they were doing their jobs and putting us through the system. You were in a cell for a while but the acoustics are wonderful, I really enjoy singing in them!"
At the same, time, it is still something of an ordeal, says Summer. You are a prisoner and you lose all of your independence. "It is lovely to have the arrestee support. I probably didn't really appreciate it before but it is great to be greeted by friendly faces, snacks and cuddles."
The arrests have either seen the charges dropped or are still being processed. Summer's first arrest, locked onto gates at the slaughterhouse in Manchester, saw a charge of aggravated trespass but still with no trial date set. 
"I can't think of anything I'd rather be doing, I've dedicated my life to activism for this reason."
There was then the blockading of a McDonald's distribution centre in Hemel Hempstead and later of its UK factory. The latter was the only one to date that hasn't seen Summer in a police cell, with the arrestees here released at the site and told to expect a summons.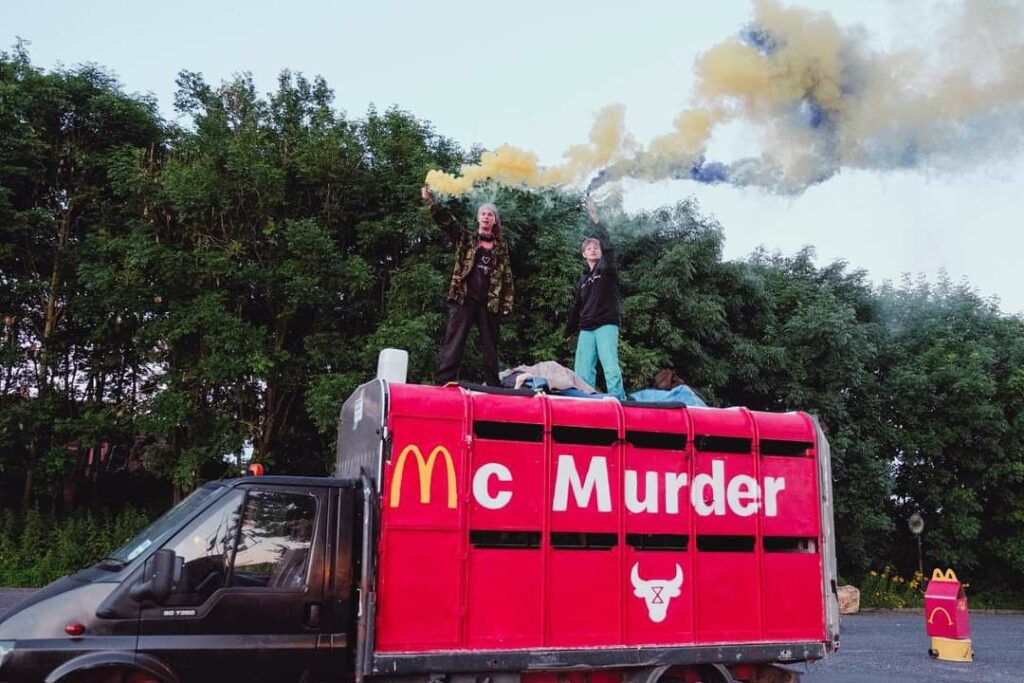 The action to block the Arla factory is also still pending. One HS2 action, at Camden, has seen the charges dropped; the other has resulted in a hearing on 14th February 2022.
It is clear that the raid on the G7 camp was far more traumatic. "I was sitting at my laptop, minding my own business. They took this and my phone, which I needed for work, and spent three hours searching the camp before arresting us, which I am sure they intended to do all along."
"We were then taken to a triage centre, then an hour and a half journey to a police station. We genuinely didn't do what they were accusing us of [conspiracy to cause a public nuisance]." Indeed, the charges against the arrestees were dropped, including against others arrested the night before who were stopped in two vehicles when they drove down to the beach.
Summer was refused her medication by a nurse at the police station but even here, despite the unexpectedness of the raid, arrestee support was there when Summer and her fellow arrestees were released, with some local XR rebels to greet them. However, as condition of granting bail, the arrestees were not allowed to associate with each other, so couldn't even share transport back to the camp.
Summer concludes. "As humans in a first world country, we are privileged, so many humans and animals are enduring unimaginable suffering and I feel a certain responsibility to do my best to minimise this. I can't think of anything I'd rather be doing, I've dedicated my life to activism for this reason."