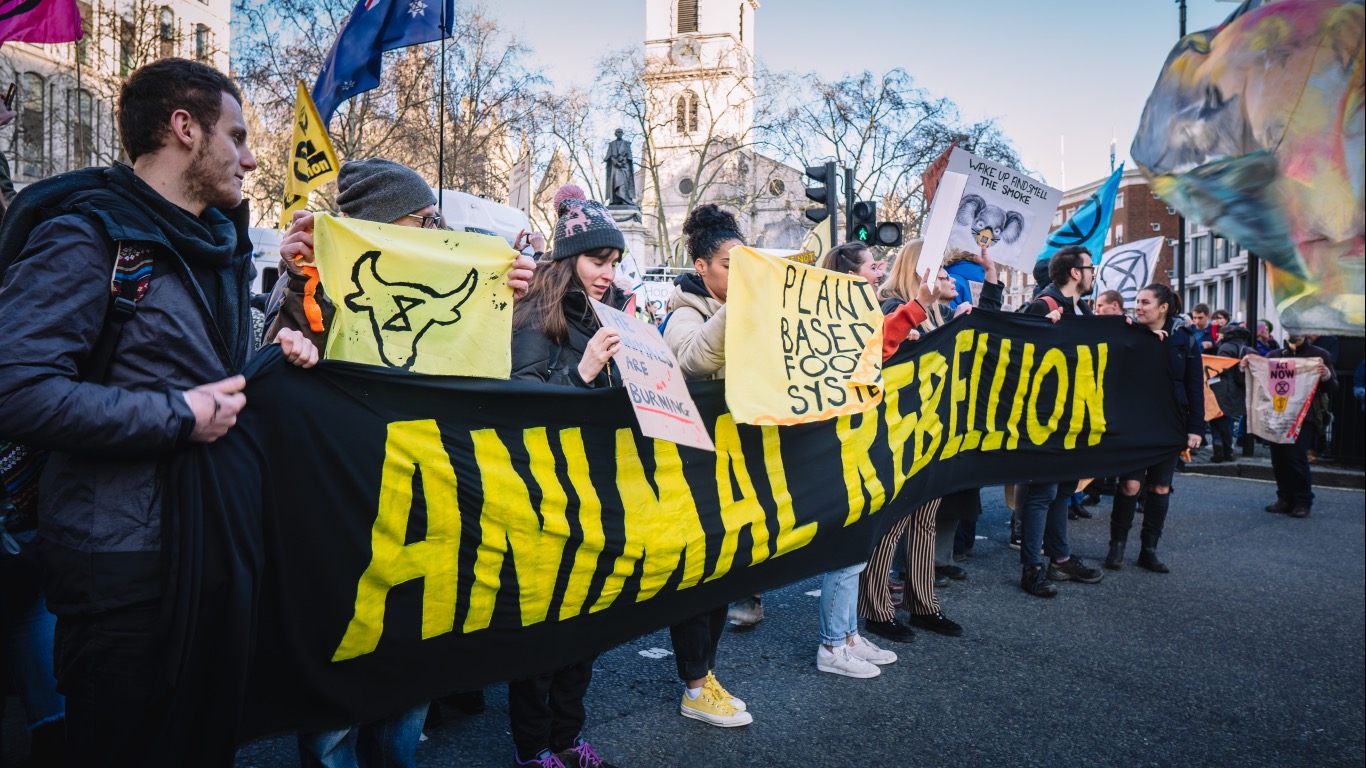 Who is Animal Rebellion?
Animal Rebellion is a mass movement of volunteers from all walks of life that calls for a transition to a just, sustainable plant-based food system, and an end to the animal farming and fishing industries. We recognise that we cannot end the climate emergency without first ending the animal emergency: only by transitioning to a plant-based food system can we halt mass extinction, minimise the risk of climate breakdown and prevent social collapse and future crises, including pandemics. We advocate in solidarity with animals, insisting that a sustainable world should be one where individuals of all species can flourish, free from exploitation.
Who can Join Animal Rebellion?
Anyone can join Animal Rebellion. We are a mass movement made up of people just like you who are coming together in order to rebel for large scale systematic changes. In order to be successful, we need everyone, including you, to come together and work to bring our vision of a just and sustainable future into reality. Anyone who agrees with, and abides by our principles and values can join us.
We are constantly working to create safer and more accessible spaces. If you would like to join and have any concerns or want to speak with someone about any needs you may have, feel free to message us anytime at recruitment@animalrebellion.org and we will be happy to accommodate your needs as best as we can.
In what ways can I take part in Animal Rebellion?
Join a Local Group
Local groups are groups of concerned citizens all around the country who want to get together and make a difference in their communities. Those who live in an area, know their community needs best and are encouraged to take action that best suits those needs. 
Join a Community Group
Animal Rebellion Community Groups are a way for people to connect and work together through communities of shared self identity rather than of shared location. (For example, faith, profession, ethnicity and sexual identity.) If you're interested in joining, or starting a community group, please message us connect@animalrebellion.org
Join the National Team
If you have specific skills or interests that you want to offer to the rebellion, you can join the team! Volunteering for the national team is very flexible. We have people working on a casual basis for 2-3 hours per week, part-time with 10-15 hours per week and we also have loads of people volunteering full time within, and outside of the UK. There is a wide variety of roles to be filled so we guarantee that together we can find something that you will thoroughly enjoy while also working towards bringing about our vision of the future. To apply for the national team we ask that you fill out a volunteer form – there's also a 'Rebel Quiz' which is a fun way to see what sort of roles may suit you!
Affinity Groups
An affinity group is a slightly more informal way of making an impact. An Affinity group is a relatively small group of people (usually 6-8) who come together to work and take action autonomously in the name of Animal Rebellion. They come up with ideas for actions and follow them through as a team. As long as the group abides by our core principles and values, they can take action in ways they believe will be impactful. If you are planning an action and require any assistance or want to seek advice, you can contact our national actions team at actions@animalrebellion.org
If your affinity group decides to take action, make sure to tag us on social media so we can share!
What do you mean by a just and sustainable plant-based food system?
You'll often hear that Animal Rebellion is demanding a transition to a just and sustainable plant-based food system, and you might wonder what this actually means? First off, we want to see a full transition to a plant-based food system which means a food system where no animals are used whatsoever. We know that this is not only possible but necessary to prevent or lessen the impact of future crises including the climate and ecological emergency and human health crises. Secondly, we want this transition to be just and sustainable. This means that it is a proper transition which includes support for farmers and their families who will need to make a transition to a new way of earning a living, support and care for animals who remain after they are no longer raised and killed for food and consideration of the land, what is grown on it, how it is treated and who makes these decisions. 
Why do you block roads and cause disruption?
Non-violent civil disobedience is at the core of Animal Rebellion's Theory of Change or, the way we believe change occurs in society. One of the key elements of this strategy is disruption as this makes it clear that the current way things are operating is broken and needs to change. If we don't disrupt we're tacitly agreeing that everything is fine. Many people ask why we disrupt individuals (e.g. by blocking traffic) when we are trying to achieve systems change and there are many answers to that question. One reason is that we believe that power comes from the people, so in order to achieve systems change we need to mobilise as many people as we can. If everything we're doing is happening behind closed doors no one will know where to go if they also want to see change happen. So we take to the streets and encourage everyone to join us. Another reason is that when we disrupt we cause polarisation which means that people who are not sure if they agree with us or not are forced to pick a side. This encourages conversation around a topic that wouldn't otherwise happen and forces issues out into the open. We encourage people who are interested in learning more about disruption and our strategy to attend an Animal Rebellion DNA training. Upcoming events can be found on our events page.
What is your relationship to Extinction Rebellion?
Our origins
Animal Rebellion came into being to make sure that everyone who cares deeply about animals and the planet knows that, there is a group representing them in the Movement of Movevents. A group made up of all of us. Many of you were already asking: what about the animals? Many of you were waiting for Animal Rebellion to come along.
Most of us who formed Animal Rebellion were already involved in other animal justice groups such as Save, Animal Justice Project, AV, Hunt Sabs, and local action groups, as well as animal advocates from academia, the media, and other walks of life.
We knew that, as people who care for animals and fight for animal justice with and alongside our animal kin, it would be the worst kind of injustice to leave the safety and security of all animals out of the picture. We also know that, because of the impact on the planet of animal agriculture and fishing, from the burning Amazon, to the greenhouse emissions, to the water usage and degradation of our soil, you simply cannot fix the climate emergency without ending the animal emergency.
Why are we in alliance with Extinction Rebellion?
We know that time is running out and that if we don't come together as a unified force then all that we love and all that we have worked for will be lost.
That's why Extinction Rebellion introduced its Movement of Movements strategy as a crucial part of the International Rebellion in October and beyond. A range of groups are together in a unified call for immediate action on the climate and ecological emergency.
And that's why Animal Rebellion signed up, despite differences, to be a sister organisation to Extinction Rebellion and all the other groups. Separate and autonomous, but working together as rebels.
The Movement of Movements — also known as The Rebel Alliance — aims to include a wide range of groups from across society — doctors, farmers, academics, faith communities, international solidarity communities, peace groups, women's groups, youth groups, and disability groups — as well as the animal justice community.
We've signed a Memorandum of Understanding and have agreed on principles of how we work together.
We know that the only way we can ever be powerful enough to transform our society is if we find common ground on which to stand together with other movements and make unified demands of the government that they cannot ignore.
Our very survival depends upon this. The survival of all animals, including sea life, depends on this. We must build a mass movement powerful enough to force the government to tackle the climate and ecological emergency all of us face. No group or organisation can do this alone.

Read an early Medium article talking about Animal Rebellion's relationship with XR.
What is your position on animal justice and on veganism?
Animal justice
Animal Rebellion is an anti-speciest organisation. We believe in a world where all individuals, of all species can flourish, free from exploitation and the worst threats of climate breakdown. We believe in a world where we work consciously to ensure no individual is seen as a commodity and where the diversity of gifts among all species are recognised and celebrated. 
Veganism
Animal Rebellion is supportive of organisations who promote veganism and we recognise that vegan advocacy has, and continues to play a key role in the animal justice movement. However, our message focuses on creating system change to a plant-based food system rather than individual change towards a vegan lifestyle. In the context of climate breakdown and mass extinction, the current rate of individual life transition to veganism isn't fast enough in the short time frame we have left to make changes. We believe we must put pressure on the government to bring about immediate system change if we are to have a chance at a plant-based future. You can read more about our position in our Medium article.
Can farmers actually transition from animal agriculture to plant based agriculture and still make a profit?
What does Animal Rebellion say about regenerative farming?
Animal Rebellion demands an end to animal farming and fishing and a transition to a just, sustainable plant-based food system. We know that animal agriculture is a leading cause of the climate and ecological emergency and that rapidly transitioning to plant-based agriculture is a key step that needs to be taken in order to prevent future crises. Animal Rebellion listens to the science and we know that meta analysis by the Food Climate Research Network has shown the potential of grazing livestock to contribute to soil carbon sequestration is small, time ­limited, reversible and outweighed by the GHG they generate. Ruminants (cows and sheep) contribute 80% of total livestock emissions, and even with careful grazing management the report found that this would only offset between 20­-50% of annual emissions of ruminants. We encourage farmers to transition to plant-based agriculture knowing that the use of animals in our food system will always be damaging to the environment and to animals.
Could the UK actually sustain itself from plant-based agriculture alone?
A study from Harvard University found that the UK would be able to sustain itself by returning a portion of land used for animal agriculture back to forest. It showed that converting land currently used for grazing and growing animal feed crops to forest could soak up 12 years' carbon emissions.
The UK imports 90% of its fruit and vegetables and we currently grow 50% of what we eat nationwide. Beans and other pulses are very efficient crops to grow in Britain – as they have nutritional and environmental benefits – and could be grown in place of animal feed, in addition to a range of fruit and vegetables.
The land footprint used to produce the UK food supply is made up by 62.7% grasslands for animal agriculture, 21.8% for cropland grown for animal feed and 15..5% for crops grown for direct human consumption. Read more here.
Only 48% of protein and 32% of calories consumed by the UK are provided from animal based products grown using 85% of the UK's total food supply land footprint. Read more here.
What policies does Animal Rebellion advocate in order to achieve a plant-based food system?
Animal Rebellion does not specifically address policies – our third demand is for a Citizens Assembly. We want policymakers and future Citizens' Assembly work to bring about this transition urgently and in a just manner.
What is a citizens assembly?
A citizens' assembly is a group of people who are brought together to discuss an issue, or issues and reach a conclusion about what they think should happen. The people who take part are chosen utilising a process of sortition, much like jury service, so they reflect the wider population – in terms of demographics (e.g. age, gender, ethnicity, social class) and sometimes relevant attitudes (e.g. preferences for a small or large state.) The chosen group who are representative of the population are then presented with the science and facts around the issue so that they can make an informed decision on what they believe needs to happen. If you would like to look more into the topic, please come along to one of our Citizens Assembly and check out this TED talk.
Do you have another question not listed here? Contact us!