Defra Tweet Party
9th September 2020 @ 11:00 am

-

1:00 pm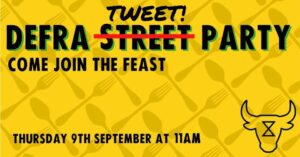 Wednesday 9th September. 11am-1pm. (BST)
Swarm DEFRA's twitter and FB page with comments demanding that they join Animal Rebellion protestors to talk about the future of UK farming. Scroll down to see sample comments…
HEY DEFRA, WE NEED TO TALK (OR TWEET!)
Listen up Defra. Our week of Rebellion is coming to an end. You've seen our demands. You've heard the truth and now it's time to step up to the table. DEFRA – Your chair is empty!
The world might be mad, time might be running out but we're not dead yet! Mark it in your diaries – 9th September at 11am-1pm we'll be jumping online to support the rebels on the ground in London in demanding that DEFRA embrace the change and move out of the dark ages and into the future!
In London, those on the streets will be showing up at DEFRA with a medieval-inspired street party to show them that a just, sustainable plant-based food system is not only inevitable, it is the future – and to ask them to take a seat, step out of the past and say hello to a 21st Century Food System.
But the rebellion doesn't end there. At home, all around the world, we will show DEFRA that our voices will be heard no matter where we are with an online swarm demanding action! DEFRA needs to sit down and talk about the future of UK farming and we won't take no for an answer.
Let's come together to end this Rebellion not just with a bang but with a promise that we're not going anywhere! We are the Rebellion and we have something to say. DEFRA, get ready to listen.
For updates on this action and all others during the Rebellion, join the Rebellion broadcast telegram chat!
SAMPLE COMMENTS
Concerned citizens are out the front of DEFRA headquarters in London right now asking why you won't talk about the environmental consequences of Animal Farming and Fishing. Why won't you talk to them?
DEFRA is continuing to ignore the scientific evidence that farming animals is one of the leading causes of the climate and ecological emergency. Why won't they address the fact that leading bodies have said that transitioning to a just, sustainable plant-based food system is the only way to prevent future crises including pandemics?
Industrial animal farming 'has caused most new viruses and risks further pandemics'
A plant-based diet can fight climate change – UN
Why does DEFRA continue to support animal farming when it's been proven that Industrial animal farming 'has caused most new viruses and risks further pandemics?' We need our government to be helping farmers transition to more sustainable options while keeping their land instead of watching them go out of business and be replaced by more and more industralised farms.
There are protestors at DEFRA right now asking them to have a conversation about the future of UK farming given that animal farming has been identified as a risk factor for everything from pandemics to the climate crisis. Why is DEFRA refusing to talk to them? Why are they ignoring scientists' warnings that our current food system is not sustainable?