#DisruptG7
8th June 2021 @ 12:00 pm

-

14th June 2021 @ 10:00 am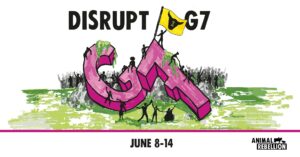 This year we need to stand strong and rebel against planetary destruction.
We are asking the G7 to put their money where their mouth is and protect the planet, humans and other animals by defunding meat.
Animals are not products and their lives are not fuel for the destruction these governments wrought on this planet which is both our home and theirs. Animals resist these industries in the same way humans do, forming alliances, disrupting destruction and continuing to survive in a world where they are increasingly unwelcome.We welcome all species and know that by building a just, sustainable plant-based food system we can build a world based on justice for all.