Stream of Solidarity with Dr Camila Perussello
23rd June 2022
@
7:00 pm
–
8:30 pm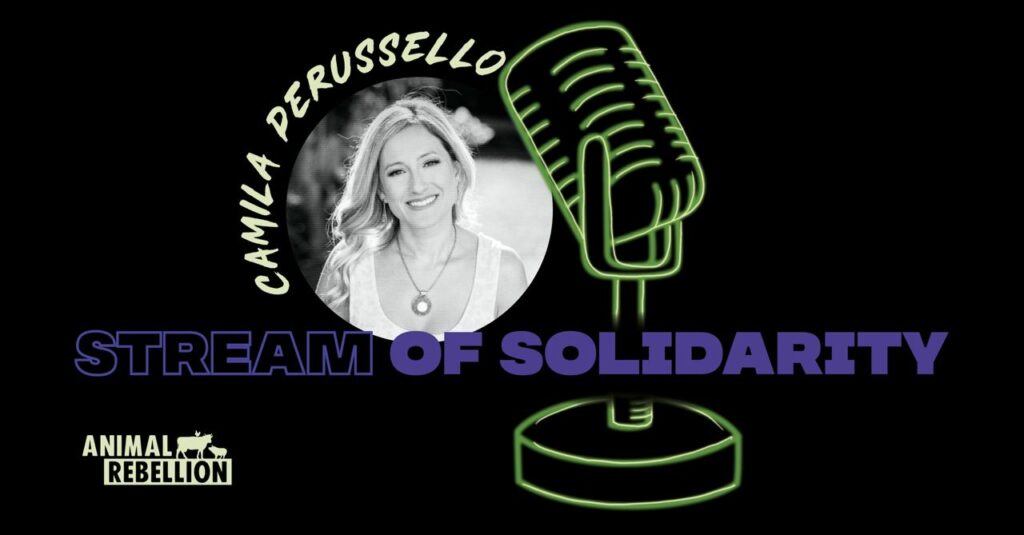 Dr Camila Perussello is a food scientist, vegan and author based in Dublin, Ireland. A former researcher at the Irish Food and Agriculture Development Authority and the Technological University Dublin, she now consults for the food industry helping companies transition away from animal use. Dr Perussello has published dozens of academic papers and book chapters on food engineering and agricultural science. She is also the author of Food for Thought, a science-based book on the intersection of food production, animal rights, and a wide range of humanist issues. For more details about her work, please visit www.camilaperussello.com.
Dr Perussello will deliver her prevention "Animal welfare: for the animals or profit?" followed by a Q&A.
Throughout decades, the animal exploitation industry has been gradually implementing animal welfare measures mainly as a response to public pressure. To many, "humane" slaughter techniques, cage enrichment in egg farms and the ban on sow stalls might seem like important achievements in terms of how we treat nonhuman animals. However, most of us fail to realise that the objective of animal farming is deriving money from animals. In this presentation, Dr. Camila Perussello will discuss how the animal welfare narrative not only masks the inherent suffering involved in animal use, but can also leverage the revenue of the animal industry by increasing productivity and improving brand reputation. Through our food purchases, we can either perpetuate injustice and environmental destruction or reshape industry and society.
https://www.eventbrite.co.uk/e/358414045057
Stream of Solidarity with Dr Camila Perussello