UK Government- Tell The Truth: Animal Ag Causes Pandemics
8th September 2020 @ 9:30 am

-

11:00 am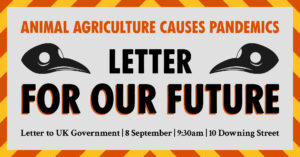 UK Government – TELL THE TRUTH
ANIMAL AGRICULTURE CAUSES
PANDEMICS
ANIMAL EXPLOITATION
CAUSED COVID-19
We demand a transition to a plant-
based food system to stop future
zoonotic pandemics.
We will be delivering an Open Letter to the UK Government, signed by scientists, NGOS, animal rights organisations and environmentalists, to demand that the UK Government urgently address the cause of the
Covid-19 pandemic ~which lies squarely at the feet of animal agriculture and exploitation.
Covid-19, is a 'zoonotic disease' which jumped the species barrier from animals to humans – likely in a Chinese wet markets where stressed animals kept in cages are slaughtered on site.
But the next pandemic could easily originate in an intensive factory unit anywhere in the world, where disease and dangerous pathogens spread easily amongst stressed, ill & overcrowded animals – the perfect conditions for disease prorogation.
The Government must heed this stark warning ~the next global pandemic is on our doorsteps, and on people's plates.
We are urging governments around the world to join together to take integrated action to prevent future zoonotic pandemics by ending animal agriculture, factory farming and moving to a safe and prospering plant-based food system.
Join us to deliver this letter to the UK
Government at this pivotal time in global history.
We want to make events and actions as accessible as possible. whether it's your first time attending the rebellion and you need some support or have any questions/requirements in regards to physical or social accessibility please contact us at: inclusion@animalrebellion.org
UK Government- Tell The Truth: Animal Ag Causes Pandemics