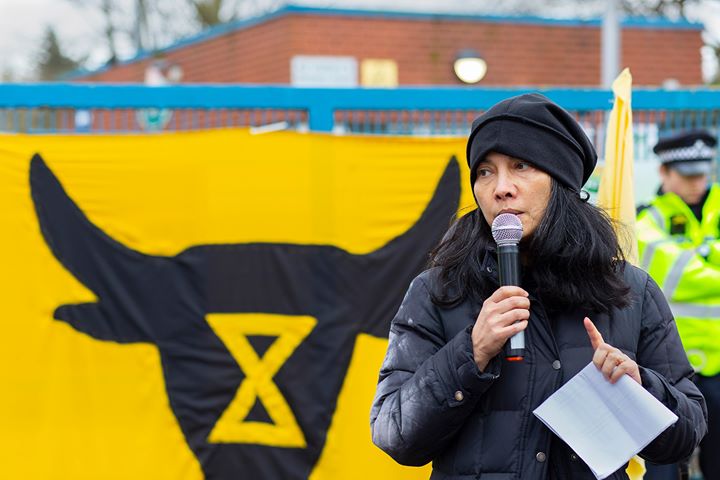 Why we rebel:
Animal Rebellion promotes civil disobedience as a catalyst for system transformation. Our focus is on attention raising actions with higher consequences, such as risking arrest, and causing mass civil disobedience in full view of the public and grabbing mainstream headlines. We apologise for any inconvenience this causes, as our motives are directed towards the system, not the individual.
Find out more about reasons and research behind civil disobedience.
October Rebellion, 2019
In October 2019, Animal Rebellion, Extinction Rebellion, and many others demanded that the UK Government declare a climate emergency and commit to making radical changes to prevent further global warming and mass biodiversity loss. AND WE SUCCEEDED! As a direct result of our actions, a climate emergency was declared.
The October Rebellion took place internationally but for the UK it began in London, with a transformation of Smithfield Meat Market into a beautiful fruit and veg market to symbolise a just and sustainable plant based future. You can read our full reflection of the rebellion, but here are just a few things that happened in October 2019:
We stood united as thousands of people came together from around the UK and overseas
We occupied Smithfield Meat Market with our tents and a symbolic fruit and veg market
We disrupted Billingsgate Fish Market, as well as the whole idea that exploiting fish is acceptable
We appeared on Good Morning Britain
Dozens of our activists were arrested, making the statement that the status quo cannot continue
If you're interested to find out more about the October Rebellion, we recommend reading these short articles:
September Rebellion, 2020
Governments around the world declared a climate emergency but have taken few steps to make any real difference. On the 1st September 2020, we went to disrupt where the high decisions are made; Parliament. We went to demand they TELL THE TRUTH, listen to the science and stop ignoring the link between the animal emergency and the climate emergency. 
Starting with a march from Smithfield Meat Market to the UK Parliament: From where Animal Rebellion started to where this destruction will end. We occupied the streets for 10 days and you can catch up on the action as it happened with our rebellion Round Up from Day 1 and Day 10.
Here's some of what happened during this Rebellion:
For more on the September Rebellion, read these short articles:
Future Rebellions
Animal Rebellion will continue to hold mass civil disobedience until our demands are met. Keep up to date with Animal Rebellion on our social media, join your local group to take part in and plan local actions, and join us at our next rebellion!