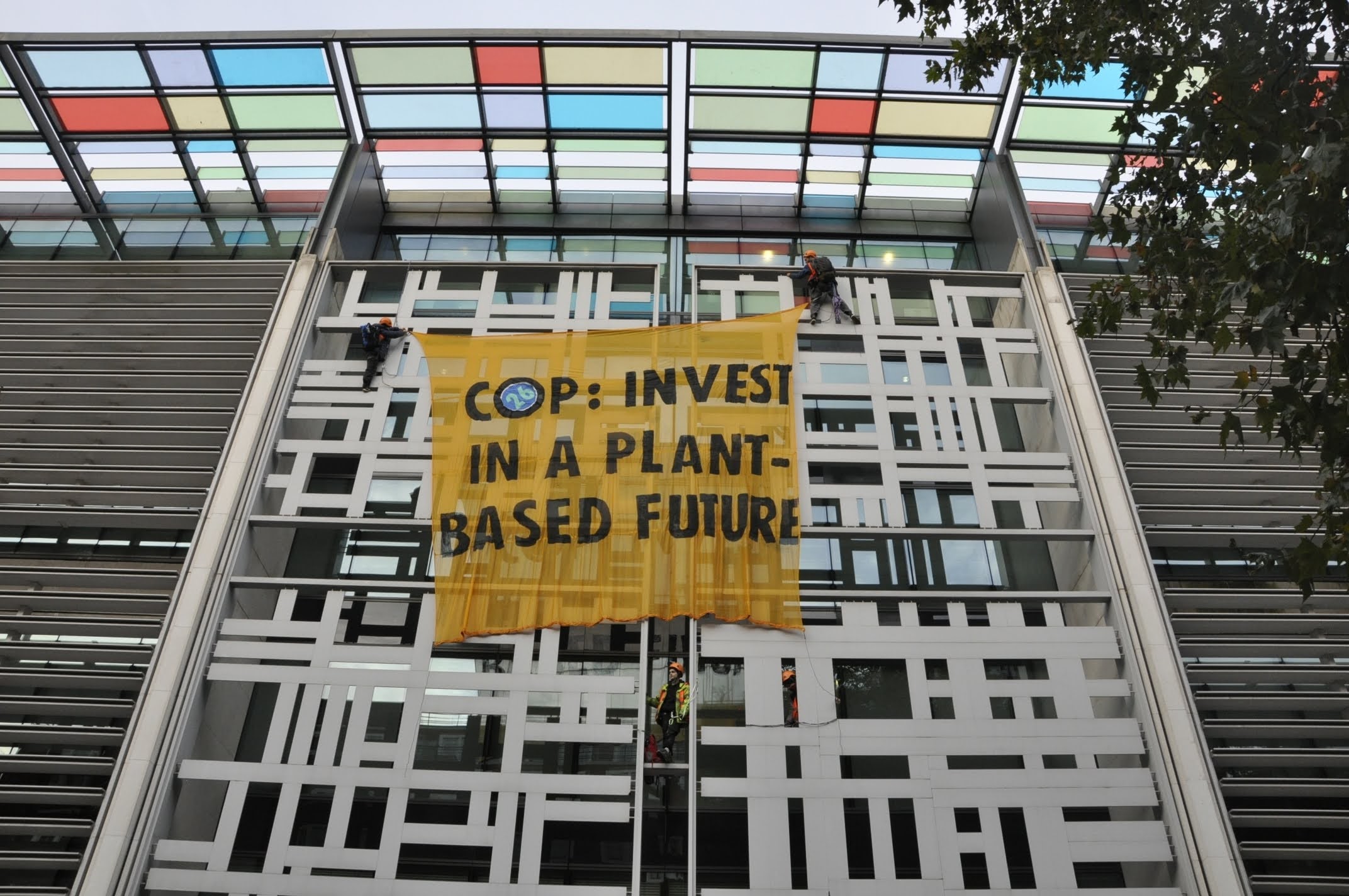 In late October 2021, ahead of the COP26 summit in Glasgow, Animal Rebellion protestors scaled the face of the Department for Environment, Food and Rural Affairs (DEFRA) building in London to highlight our calls for a plant-based future.
Animal Rebellion is demanding an end to government subsidies for meat and dairy in a protest against climate change.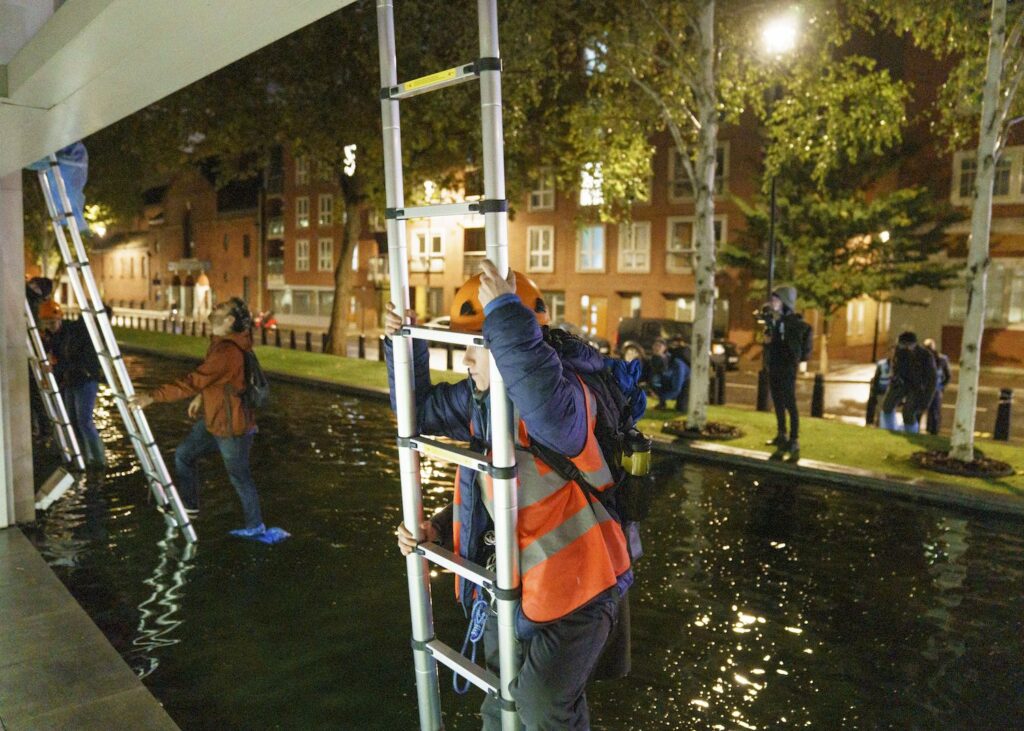 Our protesters climbed the building in the early hours of the morning of 26th October and unveiled a banner that read: "COP26: Invest in a Plant-Based Future".
The protestors remained on the building, suspended in hammocks, calling on UK Prime Minister, Boris Johnson, to pledge to cut all taxpayer support for animal agriculture and to urge all world leaders to do the same when they attended the COP26 summit later in the week.
It wasn't the first time we'd put pressure on DEFRA. In September 2020, we'd organised a street party outside its HQ, swarming the government department's twitter feed and facebook pages ahead of this.
Animal Rebellion spokesperson, Nathan McGovern, said: "The UK Government is simultaneously saying that it is a world leader in climate change whilst propping up the unsustainable and unprofitable meat and dairy industry, one that emits disproportionate amounts of greenhouse gases. This hypocrisy has to end – we need to defund meat and subsidise plant-based alternatives instead."
The UK government spends at least £1.5 billion a year subsidising livestock farming, ten times the UK's annual budget for planting trees. Meanwhile, despite a global explosion in demand for planet-friendly alternative proteins, the UK has only committed £90m in research and development to this sector.
As part of the campaign, Animal Rebellion is demanding the government subsidise plant-based foods instead, as recommended by the National Food Strategy, as a "positive action to protect the planet for future generations and end the unnecessary suffering of billions of animals every year."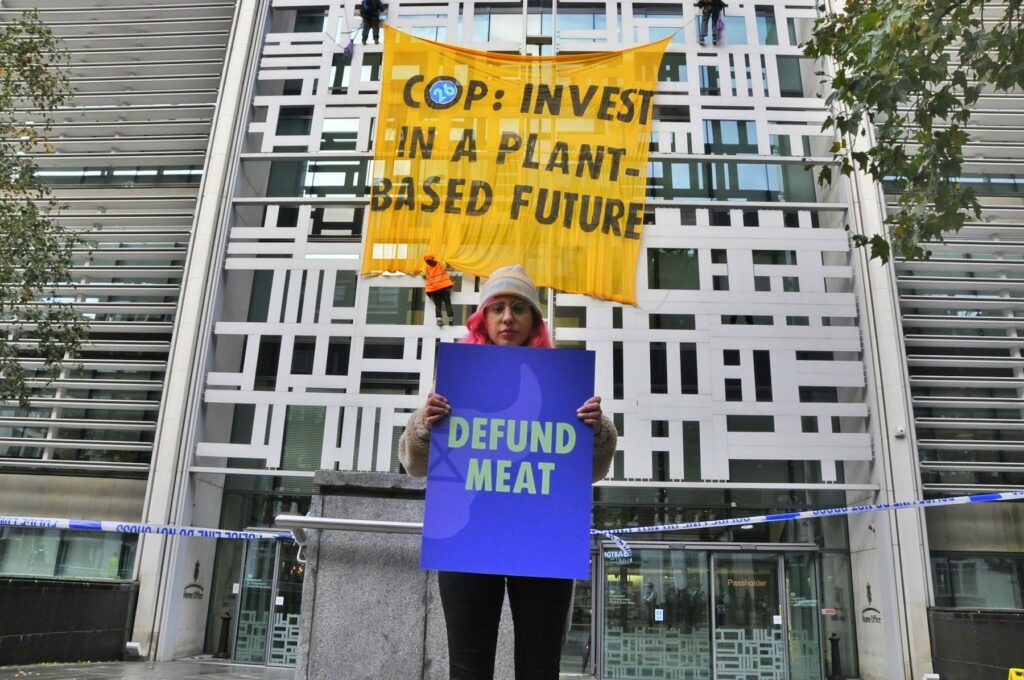 The National Food Strategy, which conducted the first independent review of the UK food system in 75 years, advised the government to invest £1 billion into food system innovation, with £125 million set aside for innovation into alternative proteins to replace meat, dairy and eggs.
The government-commissioned report tackles the nation's meat consumption, stating: "Our current appetite for meat is unsustainable. Plant-based proteins produce 70 times less greenhouse gas emissions than an equivalent amount of beef, and use 150 times less land."
The report also cites the economic benefits of the alternative protein industry, estimating that up to 10,000 new jobs could be created in the UK by investing in this growing sector. It adds that, if we don't act soon, we could lose out on "new green jobs" and become net importers of these products.
Finally, it addresses the myth that free-range, grass-fed and regenerative livestock is greener, stating: "The more intensively you rear some animals, the more carbon-efficient they tend to be."
In the UK, livestock grazers are largely dependent on public subsidies with around 90% of their profits coming from taxpayers' pockets. Experts believe that 85% of the UK's total land footprint is associated with meat and dairy production.
The UK spends £3bn a year on farming subsidies, of which at least half £1.5bn is spent on livestock. According to Greenpeace, around half of European farming subsidies across Europe go to livestock farming. With 85% of the UK's land footprint associated with meat and dairy the figure is actually likely to be much higher in the UK, but no precise figures exist.