LOVE & RESISTANCE CALLING ALL VEGANS: OCCUPY LONDON
8th October 2022
@
11:00 am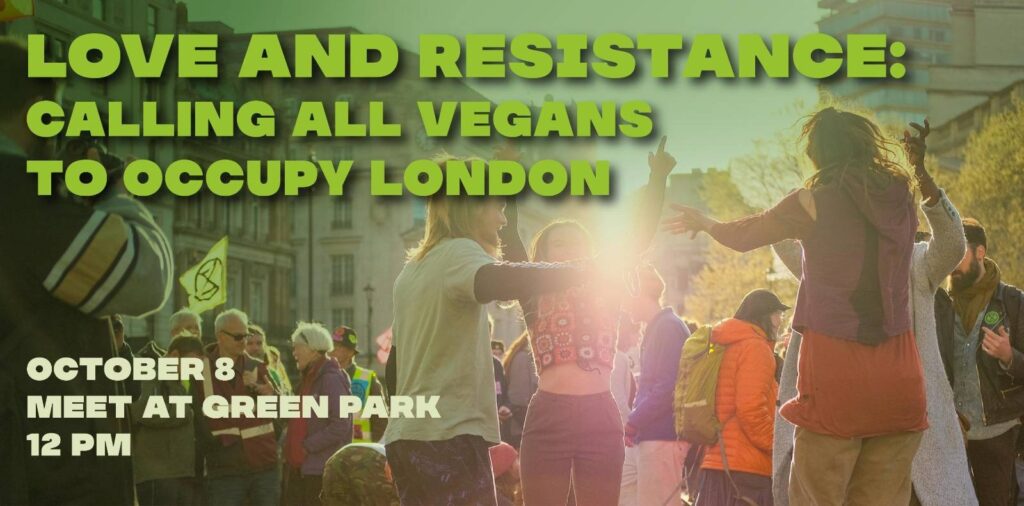 This is historic. Our movement is growing in power and numbers. We've disrupted the supply of dairy. We've made headlines around the world. We've changed the national conversation.
Now it's time to take our joyful plant-based rebellion to the Westminster government.
Join us at Green Park Station 12noon on October 8th for a day of plant-based rebellion as we occupy the streets of central London and unleash playful disruption across the city. Arrestable and non-arrestable roles needed.
Key Information
When? Begin on October 8th for 24 hours
Where? Meet in the park by Green Park tube station.
Who? You, your friends, your family, your neighbours and thousands of rebels from across the Animal Rebellion movement and allied movements for our biggest day of action yet.
What? A peaceful nonviolent day of rebellion starting with mass participation events, games, marches, speeches and food that moves into a rewilding themed march of disruptive actions and then an occupation of the roads of around Trafalgar Square until midnight resulting in hundreds of arrests.
Why? To win our demands from the government we will create an irresistible vision of a joyful plant-based future in the streets of London and create unignorable disruption. Our two demands are: (1) That the government help farmers and fishing communities to transition to a plant-based food system and (2) That the government rewild the land this spares to draw down carbon and reverse the extinction crisis.
How? By coming out in our biggest numbers yet and then filling the cells of London with rebels calling for a plant-based future, we will raise our call for a plant-based future to volumes never heard before. By bringing together thousands of people of all backgrounds and groups to join together under a plant-based banner we will build bridges, friendships and networks that will strengthen our movement as it grows ever greater.
***Prepared to get arrested for the cause? Sign up for an Non Violent Direct Action Training here https://tinyurl.com/2v742jt9 ***
Order of Play
11am – 1pm: GATHERING: A fun gathering in Green Park with speeches, workshops, discussion groups, games and food sharing.
1pm-3pm: MARCHING: We'll split off into 5 different marching groups led by a different colour flag to march disruptively and playfully around the wealthiest part of central London, occupying major shops at random, with dancing and games along the way with rebels prepared to get arrested taking disruptive action as we go. The five marching groups will be themed by different types of rewilded habitat: Forest, Ocean, River, Grasslands, Peatbogs… yes you heard right – peat bogs.
3pm until 12noon 9th October (or until everyone is arrested): OCCUPYING: Each of the five marching groups will occupy one of the 5 roads leading into Trafalgar Square, bringing central London to a standstill in the name of a plant-based future. Those taking action to the point of arrest will stay here until midnight, or until arrested.
About arrest
At Trafalgar Square we welcome people to hold the roads as long as possible and for as many people as possible to block the road to the point of arrest. For those who are not able to be arrested, we expect the police will provide clear warning before arresting people, meaning that you can choose to step out of the road and avoid arrest if you so choose.
This action will be taking place amidst Just Stop Oil's Occupy Westminster, and XR's Rebellion – thousands of people will be taking action to the point of arrest in London this October demanding Government stop all new fossil fuel developments. Therefore, any arrest here will not only be a bold stand for a plant-based future, but it will also support the broader campaign to kickstart meaningful government action on climate.
***Prepared to get arrested for the cause? Sign up for an Non Violent Direct Action Training here https://tinyurl.com/2v742jt9 ***
LOVE & RESISTANCE CALLING ALL VEGANS: OCCUPY LONDON