Over 100 supporters of Animal Rebellion have stopped the supply of fresh dairy across large areas of England.
The distribution centres affected include Arla Aylesbury, which processes 10% of the UK's dairy produce [1].
The distribution centres, operated by Müller and Arla, combine to process an estimated 2.6 billion litres of fresh milk yearly [2].
From 5:00 am today, groups of Animal Rebellion supporters stopped and climbed company trucks outside facilities, whilst others trespassed inside company facilities, climbing up onto milk silos and the sites' loading bays. This comes after the group received no response to a letter delivered to Downing Street in August, warning of disruptive action in September unless progress towards their demands was made [3].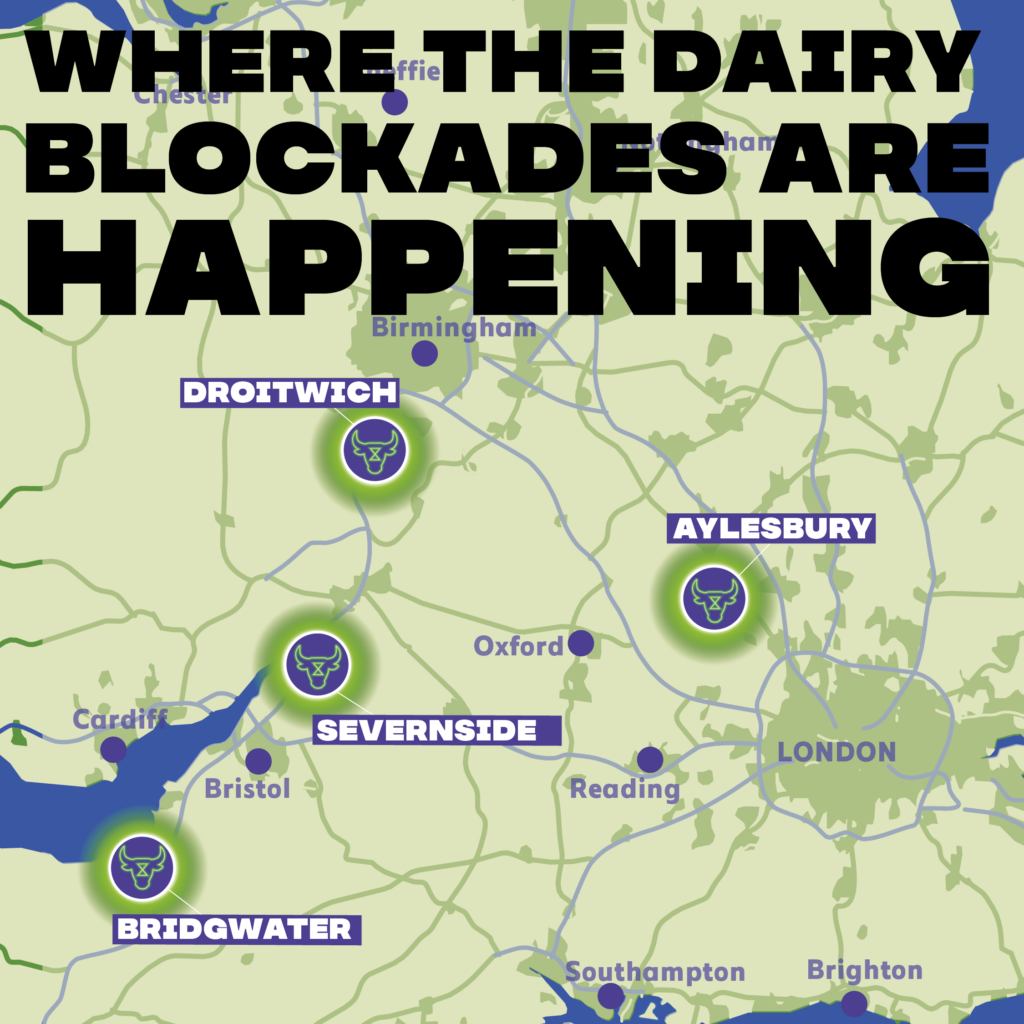 John Appleton, a father and former employee of the dairy company Arla for six years and who is part of the disruption, said: "I've seen this industry first hand; I know the struggle that farmers and workers go through every single day. We need a food system that works for them, everyone else, and nonhuman animals. Governmental support for this is vital to tackle the climate and ecological emergencies. We know the twin solution: transition to a plant-based food system and a mass rewilding programme."
Animal Rebellion has stated that its supporters will continue to take nonviolent direct action until the British Government enters negotiations for its two demands:
1. Government supports farmers and fishing communities to move away from animal farming and fishing as part of an urgent and immediate transition to a plant-based food system.
2. Government commits to rewild the freed-up land and ocean as part of a broader programme of wildlife restoration and carbon drawdown.
In 2018, comprehensive research from the University of Oxford showed that 76% of the land currently used for food production would be freed-up by a global transition to plant-based production [4]. This land could be rewilded and begin carbon drawdown, mitigating the worst impacts of climate breakdown. A 2019 Harvard University report on UK farmland and food production from Helen Harwatt and Matthew N. Hayek also concluded that the UK would be carbon-negative if it completely transitioned to a plant-based food system [5].
Steve Bone, a father and photographer from Thorpe-le-Soken, who is taking action today said: "A plant-based future would restore the British countryside and all the wonderful nature lost to animal farming. Farmers can, and should, be supported in the necessary transition to plant-based production. A plant-based future would enable massive carbon drawdown and mitigate the worst impacts of the climate crisis. We are offering the solution; our government needs to take it"
The action today comes as part of Animal Rebellion's demands for a plant-based future, which were announced on Monday 23rd of May [6]. The animal and climate group is urging wholesale governmental support for farmers and fishing communities to transition to a plant-based food system and programme of rewilding that will secure a future for generations to come.
Animal Rebellion is a mass movement using nonviolent civil disobedience to call for a just, sustainable plant-based food system.
ENDS
Word Count: 530
High-quality pictures and videos: https://show.pics.io/plant-based-future
For interviews or further comments please contact:
Nathan (Press Back Office): 07466114387
Jax (Press Back Office): 07424947798
pressoffice@animalrebellion.org
Notes To Editors:
[1]
https://www.arlafoods.co.uk/overview/arla-in-the-uk/aylesbury/key-facts/
[2] The sites where actions are taking place are 1. Arla Aylesbury, HP22 5EZ 2. Müller Droitwich, WR9 0LW 3. Müller Severnside, GL10 2DG, 4. Müller Bridgwater, TA6 6DF. [3]
https://animalrebellion.org/supporters-of-animal-rebellion-deliver-demands-for-a-plant-based-future-to-downing-street/
[4]
https://www.science.org/doi/10.1126/science.aaq0216
[5]
https://animal.law.harvard.edu/wp-content/uploads/Eating-Away-at-Climate-Change-with-Negative-Emissions%E2%80%93%E2%80%93Harwatt-Hayek.pdf?fbclid=IwAR0qbRS0IuKp4JG0AzXXb5P73osdgnYJ3VBJir88YBpMlajmJg0riNVJFMg
[6]
https://www.youtube.com/watch?v=qOq2Jqqga9E&t=5s
Milk Supply To Midlands And South Of England Cut Off As Animal Rebellion Supporters Blockade 4 Key Dairy Distribution Centres