*Update 8 November 2021*
*Originally published 14 August 2020*
Animal Rebellion is active in over 30 countries, including France, Spain, Mexico, New Zealand, Poland, Guatemala, South Africa, Israel, South America, North America and Australia. We continue to start new communities in all corners of the world that fight for a just and sustainable future for all: humans, animals, and the planet.
In 2019, a small group of Extinction Rebellion members recognised an omission in climate activism: no one was seriously addressing the relationship between people, animals, and the planet. And so, they formed Animal Rebellion to raise awareness about this gap and expose the impact animal agriculture has on the climate and all animals involved, human and non-human. They came together to address the role that humans play in this destructive, dangerous cycle and to create a just and sustainable system to replace it.
Now there are A LOT more of us. Animal Rebellion continues to fight alongside Extinction Rebellion but we carry our message: to save the planet, we must end animal agriculture and transition to a plant-based food system.
Animal Rebellion is a decentralised organisation run by volunteers. We use a non-hierarchical structure to empower individuals to harness their creativity and initiative, whilst also balancing the need for group consent. We deliver comprehensive training to educate our members from meeting facilitation and team coordination to content writing and action planning. Anyone who abides by our principles and values can take action in the name of Animal Rebellion.
An inclusive and regenerative culture is at the very heart of the movement. We welcome people from all walks of life to join us. We are focused on creating system change and so do not require our members to make personal changes. We do not ask people to be vegan. We simply ask that they follow our principles and values, such as using a non-violent strategy to bring about change and not blaming or shaming others. We show compassion for people and animals, this includes standing in solidarity with farmers as we value a strong and positive relationship and aim to be a source of support in their transition to plant-based farming.
What is it like to be a member of Animal Rebellion?
I was at the October Rebellion with my sister and this was the first time I had heard of Animal Rebellion. I was at Smithfield meat market on day 1 of the protest and was inspired by the passion and courage of people I met. Any protest can be a daunting experience, but I soon realised the movement is filled with welcoming people from all over the world. I felt comforted to be surrounded by thousands of people standing up for something they believed in, trying to make the world a better place, even though it often means going against the norm.
Members of Animal Rebellion support the movement in different ways. Some will show up to a community talk on animal agriculture, protest outside parliament, march through London, volunteer remotely or on the ground, but we are all united by one thing: our passion. We all fight for a better world and we need your help to succeed.
If this is your first Rebellion, you may be surprised at what to expect. We have sign language professionals to help make our actions, talks and training more accessible. Regenerative and well-being spaces are available to help balance out the intensity and emotion we sometimes feel due to the nature of what we are fighting for. The culture of Animal Rebellion ensures everyone is cared for during actions, even sharing our food with the police. There is often music, dancing and singing, and generally good vibes when and where it is appropriate.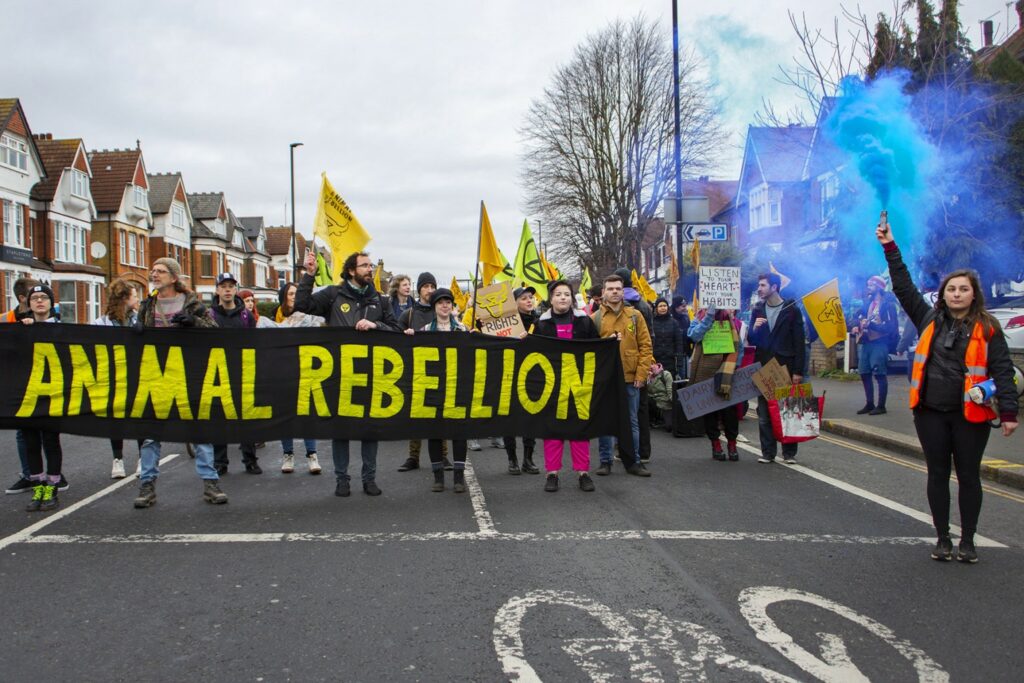 Joining an Affinity group is a great way to get to know people before the main event. Contact actions@animalrebellion.org for more info.
Who Is Animal Rebellion? The Worldwide Movement.