Animal Rebellion occupied the headquarters of Cargill in London during the 2019 Rebellion to ask them to tell the truth and act now about the climate and animal emergency. In March 2020, Animal Rebellion Turtle Island united with other groups in a global day action to call Cargill out. This August 2021, Animal Rebellion is uniting with animal liberation and other groups from across the country to stand in solidarity with the trillions of animal and fish killed yearly.
We are marching together as allies with non-human animals.
Message to Cargill
Cargill family: you have perhaps more power than any company, past or present, to either destroy the planet or lead the transition to the only form of a just, sustainable food-system there is: a plant-based one.
The world needs you to #ActNow! Start now the transition to just and sustainable plant-based agriculture. Will you join us today on the right side of history?
Cargill, whilst remaining little-known, has grown to be one of the largest traders of commodities for the animal-agricultural industry. Over the last 130 years, Cargill has become the largest worldwide producer of the grain-based feed for farmed animals and the third-largest "meat processing" company in the world. As of 2019, their agri-business was the largest food-conglomerate in the world.
Astonishingly, all this makes Cargill directly accountable for: the life and death of billions of commoditised animals every year; for a critical amount of deforestation, air and water pollution; for the wellbeing of the animals fed their grains and 'processed' by their plants; for the welfare of millions of humans that work within their supply chains; and for the health of billions more humans that consume the animal products that Cargill directly and indirectly profits from.
Until now, though Cargill is the largest family-owned business in the world, they have managed to oversee a strategy of keeping a deliberately low-profile. But today, Animal Rebellion is asking Cargill to act now and help undo the destruction they have already caused.
McDonald's supplier
This year we've shone light on the on-going issues McDonald's needs to tackle. McDonald's is Cargill's largest customer. Cargill boasts proudly about the seven awards it has received from McDonald's for their economical, environmental and ethical achievements. This is just a bad joke. Cargill's role is well-hidden to the public eye, but it is raising and killing the chickens that McDonalds sell. The silent giant is also selling soya to McDonald's for chicken and cow feed, unscrupulously deforesting habitats for millions of animals across South America.
This big corporation must take action now instead of hiding their misdoings, playing for the interests of a few billionaires at the expense of trillions of animals and people. Cargill need to stop pretending to go green and actually make decisions that protect all animals and the planet. They have the power to make big advances globally by transitioning to a just and sustainable plant-based food system. 
Deforestation
Animal farming relies on about 75% of the world's soy — of which Cargill are the largest producer and which is fed to the animals slaughtered in their farms. Globally more than 1,000,000 square kilometres — three times the size of Germany — is dedicated just to growing soy fed to animals raised for meat.
Cargill must own up to the destruction of rainforests and carbon-rich peatlands that have contributed significantly to the disruption of hydrological cycles, as well as the destruction of the habitats of many wild animals.
In 2014 Cargill signed a landmark deal with 150 other countries, businesses and civil society organisations, pledging to eliminate deforestation by 2020. However, years on from that and Cargill continue to expand its operation into new, pristine forest outside the Brazilian Amazon. Furthermore, they actively resist the extension of the deforestation-free production agreements into these areas. Cargill has pushed the deadline to end deforestation to 2030, but the animals that inhabit the forest can't wait that long. How long will Cargill fail to meet their targets?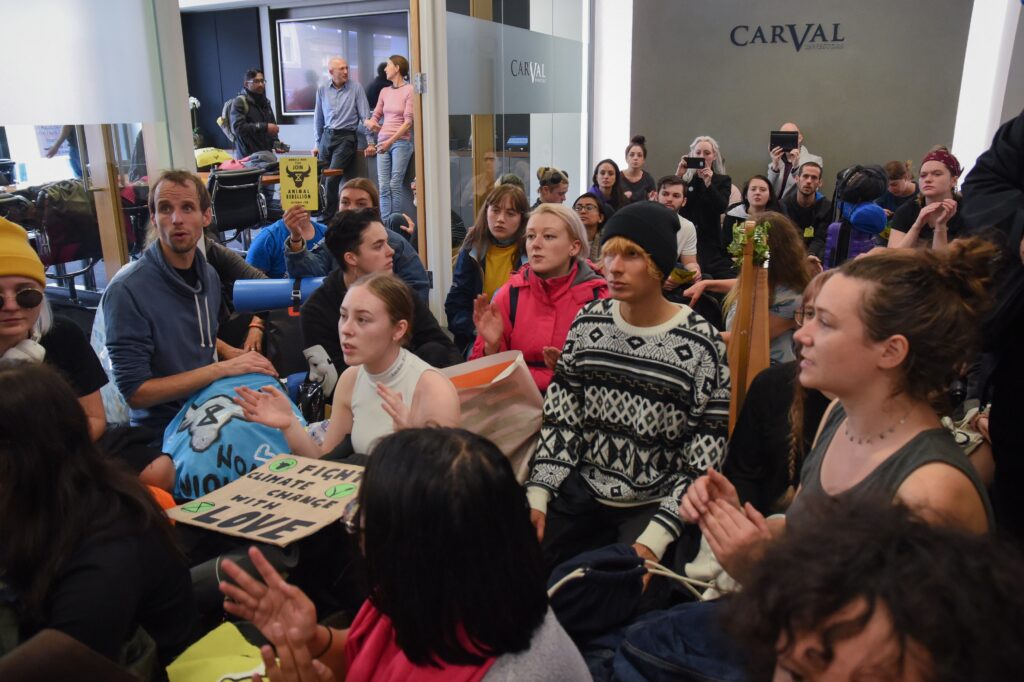 Cargill as changemakers
While clinging to its identity as a 'traditional animal protein' company, Cargill has invested in plant-based protein producers (such as the pea-protein supplier to Beyond Meat). Does this investment recognise the importance of plant based alternatives to meat or is it only a money-making investmnet?  If Cargill can genuinely recognise the importance of these alternatives, they could have an enormous impact on animal justice. 
Cargill's food competitors: Tyson Foods, Maple Leaf Foods and Smithfield Food have taken steps to create their own meat free products. By making similar changes in the way they operate, Cargill could have an enormous impact in reducing and even eradicating the number of animals killed for meat.
Today, people are more informed about the sentience of farmed animals. We know that they are individuals whose lives matter. We are faced with data and numbers that demonstrate the daily massacre of harmless animals. Cargill recently altered their slaughter process for chickens at their London plant, reducing the distress experienced by these sentient beings in response to welfare concerns. Yet, this is not enough. Today, we say that listening to the general public can only mean spearheading a global shift towards a plant-based food system.
Cargill: you have enormous influence over today's food and agricultural systems and over the companies that work within it! Crucially, you have a massive impact on the existence and habitat quality of billions of animals. We now know that a plant-based food system is the only system that can ensure animal justice. With your investments and your infrastructure, the scale of change necessary is possible.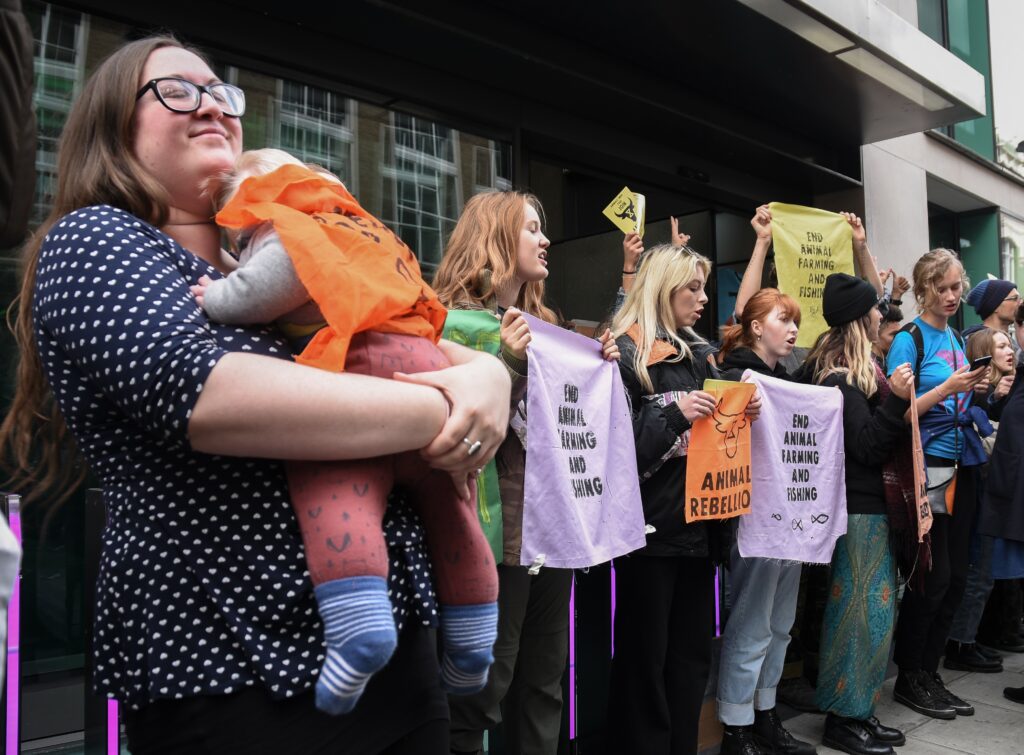 What's next:
Click going to the National Animal Rights March on 28th August and get more information on the Facebook event here.
Learn more about how Unilever, another stop during the march, needs to change now for animal justice. We also march to the Marine Stewardship Council to stand for fishes and other sentient aquatic animals. Where is the compassion for sentient marine animals in the fishing industry?
To get ready for the Rebellion, you can do trainings with Extinction Rebellion, a movement with whom we act in solidarity. You can check out our events and trainings here.
Useful links:
Donate to support our movement
Cargill Family, A Historic Choice is upon You: Planetary Destruction or Animal and Climate Justice?