We're fast approaching the end of the year, and so before 2022 begins, let's stop and look back at all that Animal Rebellion has achieved over the last twelve months! Through a series of direct actions over the year, we have made our case for a transition to a just and sustainable plant-based food system loud and clear.
January – Saving the world one council at a time
We kicked off the year with our schools and councils campaign, demanding that they do their part to encourage plant-based eating. A total of 74% of councils have declared a climate emergency, yet few are taking steps to reduce food-related emissions. How did we get on? Well, an incredible 10% of UK councils got on board and saw the need to help reduce animal product consumption in their local area. Thanks to the actions taken by Hackney Council alone, an estimated 92,000 animal lives will be saved each year, not to mention 490 tonnes of CO2!
April – Challenging the school menu
We demanded that the Department of Education introduce plant-based foods in school canteens, an initiative which will aid them to do their part in helping meet climate targets while encouraging young people to establish healthier eating patterns and save money! Several councils from Brighton to Somerset worked with ProVeg to promote more plant-based meals in schools.
May – McDonalds brought to a halt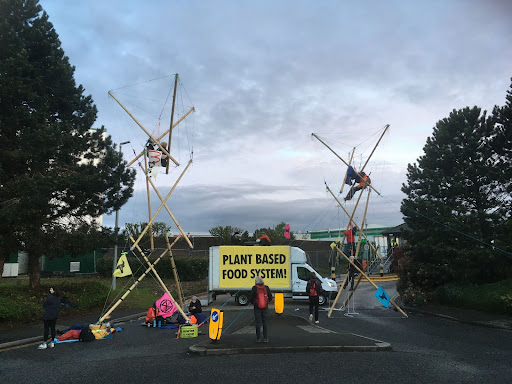 That's right, we blockaded all four McDonald's UK distribution centres, which supply approximately 1300 restaurants! We called for, and continue to call for, McDonald's, one of the biggest symbols of the animal agriculture industry, to offer a fully plant-based menu by 2025.
Why? McDonald's is an enormous contributor to climate change by selling such environmentally destructive foods at ridiculously low prices, and is also known for its poor track-record on animal cruelty and workers rights. We say no! Over 100 protestors blockaded the site for 24 hours, fighting for human, animal and climate justice.
June – G7 Presence in Cornwall
We made sure our voices were heard at the G7 Summit taking place in Cornwall. Around 50 people peacefully occupied both indoor and outdoor seating at the McDonald's in Falmouth.
July – Big Mac crisis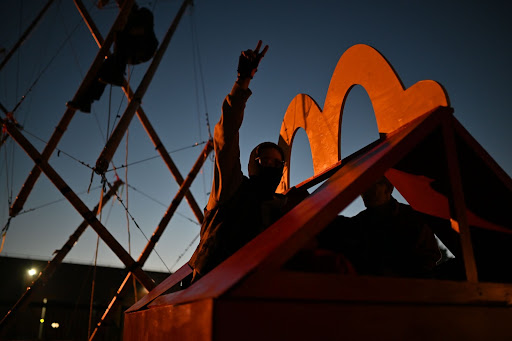 Animal Rebellion blockaded McDonald's only UK burger factory and halted production for over 24 hours! Tents and gazebos were set up as a camp and our brave activists secured themselves to bamboo structures outside the building and occupied the roof, setting an unofficial world record of 62 hours up a beacon! We were met with support from former employees of OSI Foods, who described horrendous working conditions and from the locals who rallied to show support and provided food and essentials.

August – All night occupation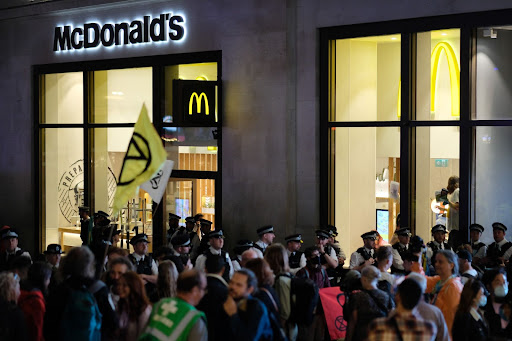 Sick of us yet Mcdonald's? In August 50 protestors spent the night at the Leicester Square branch of McDonald's as we repeated our demand for a transition to a plant-based menu! From 6pm onwards we occupied the restaurant and aimed to start conversations with customers about the destruction caused by McDonald's and the impact of the fast-food industry.
Buckingham Palace Protest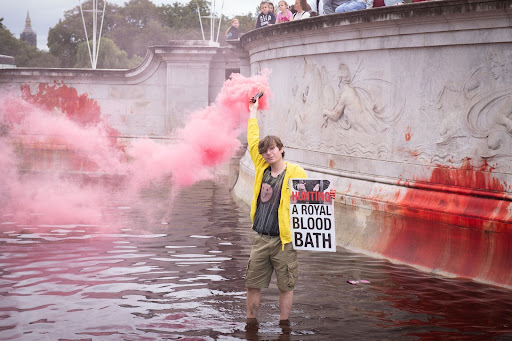 That's right! We dyed the iconic Buckingham Palace fountains blood red in a protest against use of crown land for hunting and animal agriculture.
We demanded that the Queen put an end to the use of crown land for industries which are contributing to the climate and ecological emergency and the death of animals. It's time for a new system based on justice and compassion and the royal family should be leading the way. 

National Animal Rights March
We were joined by numerous animal rights groups and activists to stand up for animals loud and clear. We marched from Smithfield Market, stopping at Unilever, Cargill and MSC and through central London, mobilising thousands of people and celebrating all that has been achieved for animals and the large amount of work still left to do.

Arla Action
To end our August Rebellion, 50 rebels blockaded Arla, the UK´s biggest milk factory, calling for an end to dairy production. Dairy corporations, including Arla, together emitted more greenhouse gases in 2017 than major polluters such as BHP and ConocoPhillips, and the industry also undoubtedly abuses animals on a large scale. We demanded that the government supports companies like Arla by funding a fair transition for workers in meat and dairy industries to just and sustainable alternatives.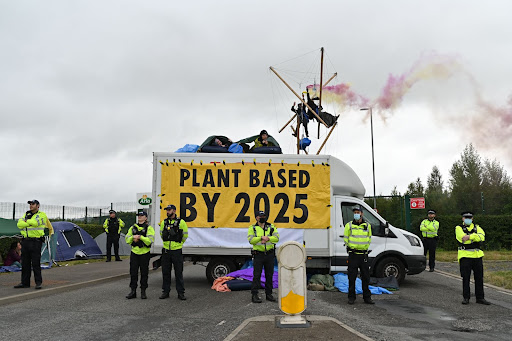 October – COP 26 Protest
Animal Rebellion protestors scaled the face of the Department for Environment, Food and Rural Affairs (DEFRA). Ahead of the COP 26 Climate change conference, we urged leaders to 'defund meat' and invest in plant-based alternatives instead.
We called out our government's hypocrisy, as they claim to be world leaders in climate change whilst propping up the unsustainable and environmentally destructive meat and dairy industries with at least £1.5 billion a year in subsidies. We called for an end to this and sent a clear message to world leaders attending COP26 later that month!
What a year! And we are ready for even bigger and better things in 2022. Find a role that's right for you and get involved with Animal Rebellion now. Let's bid goodbye to the year with some wise words from Margaret Mead.
''Never doubt that a small group of thoughtful, committed citizens can change the world; Indeed, it's the only thing that ever has.''
Animal Rebellion's 2021 Roundup!